Attractions in Hakone, Japan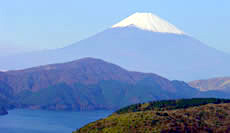 Mount Fuji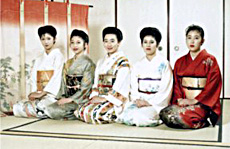 Geisha, Hakone Geisha Association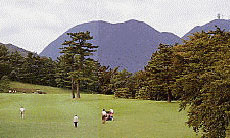 Odaware Yumoto Country Club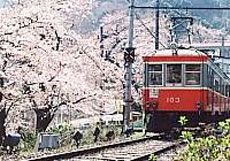 A Hakone Tozan train

- Attractions in Hakone
- Attractions around Hakone
- Information about Mt. Fuji

Hakone
is one of the most popular hot-spring (Onsen) resort areas in Japan. As well as the hot springs themselves, this area is also home to splendid vistas of Mount Fuji, museums, golf courses, hiking courses, and more.. and it is so accessible from any point in Tokyo. So, if you begin your trip in Tokyo, be sure to include Hakone in your travel itinerary.

The following web sites introduce a few of Hakone Attractions. We hope you will enjoy your time spent in Hakone.
Hakone-town public home page

On this site there are web cams showing the area and weather reports especially regarding Mount Fuji. There is a selection of photo's showing flora and fauna of the region. The site also contains 'Daily Life' information, if you consider moving to the area to live. The site is available in English, Chinese, and Korean



Odawara Yumoto Country Club ( Golf Course)

A golf course accessible within 5 minutes by car from Senkei. At Senkei we can arrange and make a reservation(including info about green fees, etc.) by request. The site is available in Japanese Only



Hakone Geisha Association

Hakone is famous for Fujiyama (Mount.Fuji or affectionately called Fuji-san) and Geisha. The elegant movement of Geisha dancing in Odori performance (Japanese traditional Geisha dance) is an unforgettable experience and a highlight of the Hakone region and travel to Japan. The site is available in English.

We can arrange a showing of Geisha at our Hotel and Ryokan.


Odawara Hakone Systematized Goodwill Guide Club

The Odawara Hakone Systematized Goodwill Guide Club is a group of volunteer guides. They assist foreign visitors and help them to enjoy their stay while travelling around Odawara and Hakone.For more information


Hakone Tozan Railway

The most convenient transportation system in the Hakone area where you can enjoy sightseeing and sights around the Hakone-yumoto and Gora areas. If you take the cable car from Gora station on a sunny day you will definitely enjoy a great view of Mount Fuji. The site is available in Japanese only.



Map of the Hakone area of Japan


Click here for a map of the Hakone region of Japan showing the local roads and rail lines.



GOTEMBA PREMIUM OUTLETS

The Gotenba premium outlet is an outlet shopping mall where can buy big-name brands such as famous dresses cheaply.

Route 1
It takes about 60 min. by bus from Hakone Yumoto station.
Hakoneyumoto St. - GOTEMBA PREMIUM OUTLETS

Route 2
It takes about 90 min. by train and bus from Hakone Yumoto.
Hakoneyumoto St. - (Hakone Tozan Railway 42 min.) - Gora St. -(Bus 45 min.) - GOTEMBA PREMIUM OUTLETS

*More information about the bus from Hakoneyumoto St. to GOTEMBA PREMIUM OUTLETS
Hakone Yumoto - Gotemba Premium Outlets Line

*More information about GOTEMBA PREMIUM OUTLETS
English
Korean
Chinese(Traditional)
Chinese(Simplified)





Climbing Mt. Fuji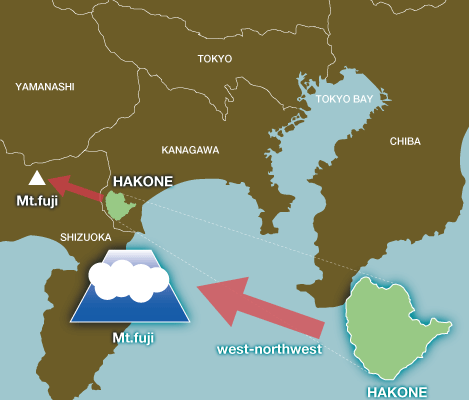 Climbing Mt. Fuji is one of the highlights of a trip to Japan. At a height of 3776m above sea level, Mt.Fuji is Japan's highest peak, and the views from the top can be breath-taking. The best time to climb Mt.Fuji is from 1st of July to 31th of August.
Click here for more information


How to Reach the 5th Stage of Mt. Fuji

Hakone is a great place to enjoy the view of Mt. Fuji, but if you want to go to Mt. Fuji itself, you will need to travel a little further.
The recommended route is detailed below.

Hakone Yumoto Station - (bus/Hakone Tozan Railway: approx. 15min) - Odawara - (bullet train: approx. 30min) - via Shin-Fuji - (Fuji Express Bus: approx. 130min) - 5th stage Fujinomiyaguchi


Mt. Fuji View Spots in Hakone

Of course you can see Mt. Fuji in Hakone. But you have to drive up a little. If you are interested in it, check out Mt. Fuji Viewpoint.