About Senkei Onsen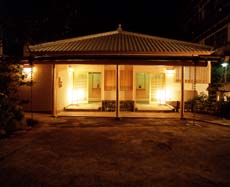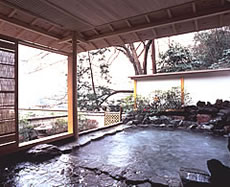 Open-air bathing area at Hotel Senkei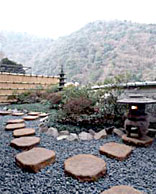 Roof-top garden at Hotel Senkei

Onsen, or Japanese Hot Springs, in Hakone

Hakone-yumoto is a historical Hot Spring resort town that provides some of the highest quality Onsen in Japan. The hot spring waters of our Onsen flows directly comes from an underground Geyser. You can enjoy pure hot springs in our large bathing rooms that are available to all guests staying at Hotel Senkei, Yamagaso and Senkei Plaza Inn. We have the following types of bathing rooms:

- A large indoor bathing room for men.
- A large indoor bathing room for women.
- An open-air large bathing room with splendid view of mountains in Hakone.
*The open-air onsen is alternately available for men and women.
(Operates on rotation)

At Hotel Senkei and Yamagaso, there is private bathing in your room. We also have Kashikiri-buro, or bathing rooms for private rental at Yamagaso. There are two types of Kashikiri-buro bathing rooms, a large type, and a medium type. Kashikiri bathroom is available for 24 hours a day.



The Medicinal Properties of the Hot Springs Water

The hot spring waters of Onsen have found to be effective treatment for these ailments:

Neuralgia, muscle aches, arthritis, stiff shoulders, motor paralysis, stiff joints, bruises, sprains, chronic alimentary diseases, hemorrhoids, poor circulation, convalescent stages, recovery from fatigue, promotion of health, cuts, burns, chronic dermatitis, physically weak children and chronic female disorders.

The Hot Springs Water in Onsen contains calcium sulfate and weak sodium chloride.



How to take a Japanese Bath

How to take a bath, Japanese style! You are only to go inside the bath tub after you washed your body. Firstly, you are to rinse your body with hot water. Washing beforehand helps to keep the water in the bath tub clean.

The rinsing and washing of your body with hot water also acclimatizes you to the actual temperature of the bath tub. It is not advisable to jump into the water like diving in to a swimming pool. Please use discretion.

Bring with you the small towel that will be provided with you and please do not put the hand towel into the bath tub water. Most people place the towel on their head. And remember do not use any soap or shampoo or other skin cleansers in bath tub.


Return to Yamagaso Ryokan page
Return to Hotel Senkei